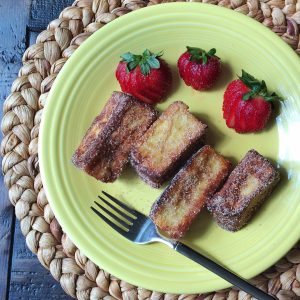 Churro French Toast
Yield 10 French toast sticks
A decadent breakfast that will have you thinking you're in a churrería
Ingredients
1 loaf of bread, unsliced (I like to use challah, an egg bread)
3 eggs
3 tablespoons half and half or milk
1 1/2 tablespoons cinnamon sugar
1/4 to 1/2 a real vanilla bean, seeds scraped out
1/2 cup safflower oil for frying
1/2 cup cinnamon sugar for rolling
Optional: garnish with sliced fruit, agave nectar syrup or maple syrup, or drizzled dulce de leche caramel sauce
Instructions
Start heating the 1/2 cup safflower oil over low-medium heat in a deep frying pan.
Remove all the crust from the bread and cut the bread into sticks, about 4 inches long by 1 1/4 inch wide by 1 inch tall. (You should get about 9-10 french toast sticks from one loaf of braided challah.)
Whisk 3 eggs, 3 tablespoons half and half (or milk) and 1 1/2 tablespoons cinnamon sugar together in a shallow dish that you can use to dip the bread.
Scrape the vanilla beans from the pod and whisk into the egg mixture. If you're using vanilla bean paste, you can measure out a half teaspoon and whisk into the eggs along with the other ingredients in the mixture.
The oil should be warm but not hot enough to fry at this point. Raise the heat to medium/medium-high while you dip the bread in the egg mixture.
Dip each french toast stick in the egg mixture, making sure to coat all sides of the bread. Don't leave it in too long, though, or your bread will get soggy and start to lose shape.
Transfer each stick to the frying pan and fry until each side is golden brown.
While the french toast sticks are frying, put the 1/2 cup of cinnamon sugar for rolling into a shallow dish. Transfer cooked french toast sticks directly to the cinnamon sugar and roll until all sides are completely coated.
Serve immediately. If desired, garnish with fresh sliced fruits or serve with agave nectar syrup, maple syrup or drizzled dulce de leche caramel sauce.
Notes
I use safflower oil instead of vegetable or canola oil due to its excellent performance at high heat. It also doesn't make your kitchen stink the way other frying oils do, and it's a slightly healthier choice as well. If you have leftovers, you can store them in an airtight container in the refrigerator and reheat in the oven at 300ºF until heated through (about 5 minutes), or microwave for 1-2 minutes at 30-second intervals.
Courses Breakfast
Cuisine Mexican
Recipe by The Other Side of the Tortilla at https://theothersideofthetortilla.com/2013/05/churro-french-toast-recipe/