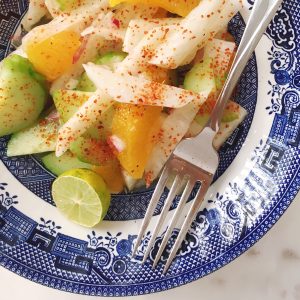 Mexico City-Style Pico de Gallo
Yield 4 servings
You'll love the different style of this Mexico City pico de gallo made with jicama, oranges, lime juice, red onion, chile, and cucumber. Naturally gluten-free and vegan-friendly, and 100% Mexican!
Ingredients
1 jicama root (medium size; about the size of your two fists facing each other)
1 1/2 Valencia oranges (use 2 oranges if they're small)
juice of 4 limes
1/2 a red onion, diced
1 to 2 serrano chiles, sliced thinly into wheels (use only one to start; sometimes they can be spicy!)
1/2 to 1 whole cucumber, sliced (you can cut them into half moons or quarters if you like, and you can also use regular or seedless cucumbers depending on your preference)
1 tsp kosher salt
sprinkle Tajín (a dry condiment of chile flakes with lime-flavored salt) or chile powder on top as desired
Instructions
Cut the jicama into carrot stick sized pieces.
Slice the cucumber and chile, and dice the onion. Mix them all in a bowl.
Juice the limes over the vegetables.
Gently juice one whole orange, being careful not to juice all of the flesh. Use a fork or a knife to gently pry some of the flesh out of the orange. For the other half orange, do the same to extract some of the flesh and then squeeze the rest of it for the juice.
Add the kosher salt and then toss to mix well. Sprinkle the Tajín over the top and toss well before serving.
Notes
Pico de gallo can be stored in the refrigerator for a day or two without getting soggy, but is best when eaten immediately.
Courses Snack
Cuisine Mexican
Recipe by The Other Side of the Tortilla at https://theothersideofthetortilla.com/2011/06/pico-de-gallo/