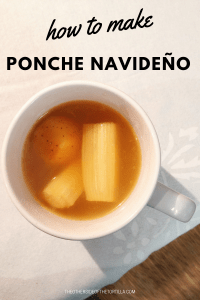 Ponche Navideño
Yield 12 servings
This Mexican Christmas punch, called ponche navideño, is served during Las Posadas, Nochebuena (Christmas Eve) and at holiday parties, and is often spiked with brandy or rum. It's made with Mexican guavas, sugar cane, tejocotes, cinnamon, dried plums, and oranges.
Ingredients
5 to 6 cups water
5 to 7 Mexican cinnamon sticks (Ceylon cinnamon)
8 guayabas Mexicanas (Mexican guavas with yellow skin and creamy white flesh)
4 generous slices of orange plus 2 whole oranges
1/2 gallon Bonafina (sold in Mexico only); U.S. substitute: Original Sunny D or Tampico Citrus Punch
1-2 sugar canes, cut into small sticks until you have 12-18 pieces (think large carrot stick size)
3/4 to 1 cup dried plums (prunes; ciruelas deshidratadas)
Instructions
Bring water and cinnamon sticks to a boil in a large pot over medium flame to infuse water with the cinnamon.
Cut the top of the cores out of the tejocotes and halve the guavas. You can remove the seeds from the center of the guava if you like, but I leave them in for extra flavor while cooking. You can easily scoop out the seeds after cooking and before consumption.
Add the tejocotes, guavas and orange slices to the cinnamon-infused water. Reduce heat and add the Bonafina or orange drink substitute. Halve the remaining two oranges, squeeze juice into the pot and then put the rinds into the pot as well.
Cut the sugar cane into smaller sticks (see photo above). These are tough to cut; use a sharp knife, a sturdy cutting board and a lot of care to prevent any accidents. Add cane sticks to the juice and turn the heat back up to medium-high. Bring to a boil and allow it to boil for about 5 minutes. Reduce the heat to medium and allow punch to stew for 30 minutes. Reduce heat and allow to simmer for about another 40-60 minutes.
Add dried plums during last 15 minutes of simmering so they don't rehydrate too quickly from the high heat and start to fall apart. When it's done simmering, you can either serve immediately, or place a kitchen towel over the top of the pot and let it cool and infuse more overnight. Discard the orange halves but keep the orange slices.
Ladle punch into mugs and spoon some fruit and sugar cane into each mug as well. You can also garnish with a cinnamon stick for a little extra flavor if you like. To juice the sugar cane sticks, bite gently and suck the liquid out. Some of the punch flavor will have infused and the sugary liquid that will come out will have a citrusy spice flavor to it.
Notes
If you let it sit overnight, just reheat and serve. After that (if there's any left), store in an airtight container and refrigerate for up to 5 days.
Note: if you make this recipe using a ponche Navideño mix from a jar, I suggest you pour out most — if not all — of the syrup in the jar before adding the tejocotes, guayabas and caña to the pot. You may also want to add a few tablespoons of granulated cane sugar to help sweeten it. I also find that I prefer a couple extra cinnamon sticks for a more spiced flavor.
Courses Beverage
Cuisine Mexican
Recipe by The Other Side of the Tortilla at https://theothersideofthetortilla.com/2010/01/ponche-navideno/