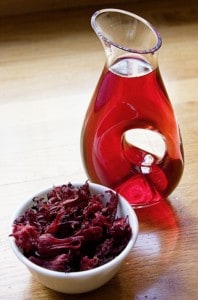 Agua de jamaica
Yield 6 cups concentrated juice (should be diluted before consuming)
Agua de jamaica is a classic Mexican agua fresca recipe made with dried hibiscus flowers.
Ingredients
2 cups (about 2 ounces in weight) dried flor de jamaica (hibiscus flower calyces)
3/4 to 1 cup Zulka morena granulated cane sugar
8 cups water
Instructions
Bring 8 cups of water to a boil in a non-corrosive pot and add the flowers and the sugar. Stir to wet all the flowers and dissolve the sugar, and allow to boil for 3-5 minutes undisturbed.
Remove from heat, stir, and allow to steep and cool to room temperature for about 1 1/2 to 2 hours.
Using a sieve over a pitcher, pour the liquid (with the flowers still in it) through the sieve to filter the flowers out. The flowers will have plumped up during rehydration. Press them against the sieve with your fingers or a spoon to extract any extra juice left inside.
Refrigerate. When serving, cut with 50 percent water to dilute.
Notes
Total time includes 2 hours of cooling time for the concentrated juice to come to room temperature before serving or bottling and refrigerating.
*This recipe is vegan-friendly when using Zulka morena sugar.
Cuisine Mexican
Recipe by The Other Side of the Tortilla at https://theothersideofthetortilla.com/2009/09/agua-de-jamaica/